Game Time
In The Running
Season Preview and Predictions for Utah Football
BY John Coon, Andrew Fronce & Robert Mccombs
BYU Offensive Bite
By Robert Mccombs
Coming off a 4-9 season that saw BYU field one of its most inept offenses in school history, the Cougars still have their sights set on a postseason bowl game in 2018. With the return of freshman All-American tight end Matt Bushman and addition of Hawaii graduate transfer Dylan Collie, the quarterbacks will have ample weapons as BYU looks to rebound from a historically bad season.
All eyes will be on the quarterback battle come fall camp as BYU's four-man race heats up. Senior Tanner Mangum is the veteran and most experienced quarterback, but he will be pushed by junior Beau Hoge, sophomore Joe Critchlow and true freshman Zach Wilson.
The signal callers should be supported by a solid run game and offensive line. BYU returns the bulk of its rushing production, led by senior running back Squally Canada, and 10 former three- and four-star recruits among the offensive line.
A strong defensive line has always been the calling card of head coach Kalani Sitake's defenses, and defensive tackle Khyris Tonga and edge Corbin Kaufusi will look to anchor that unit. Converted cornerbacks Dayan Ghanwoloku and Troy Warner headline the secondary at safety, and linebackers Butch Pau'u and Sione Takitaki add to what will be an experienced defense.
Newcomer to Watch:
Zach Wilson, quarterback
The quarterback position is wide open, and true freshman Zach Wilson will have every opportunity to be the starter come September 1 at Arizona. An early enrollee and a dual-threat quarterback, Wilson's physical tools and leadership abilities shined during spring camp. With Tanner Mangum is coming off a lackluster 2017 season and an Achilles injury, and Beau Hoge's injury concerns, Wilson stands a good of a chance as any at being BYU's starter.
Offensive coordinator Jeff Grimes brought in Wilson as his guy with the chance to compete for playing time right away, and Wilson has the physical tools and intangibles to seize the starting job away from more experienced guys.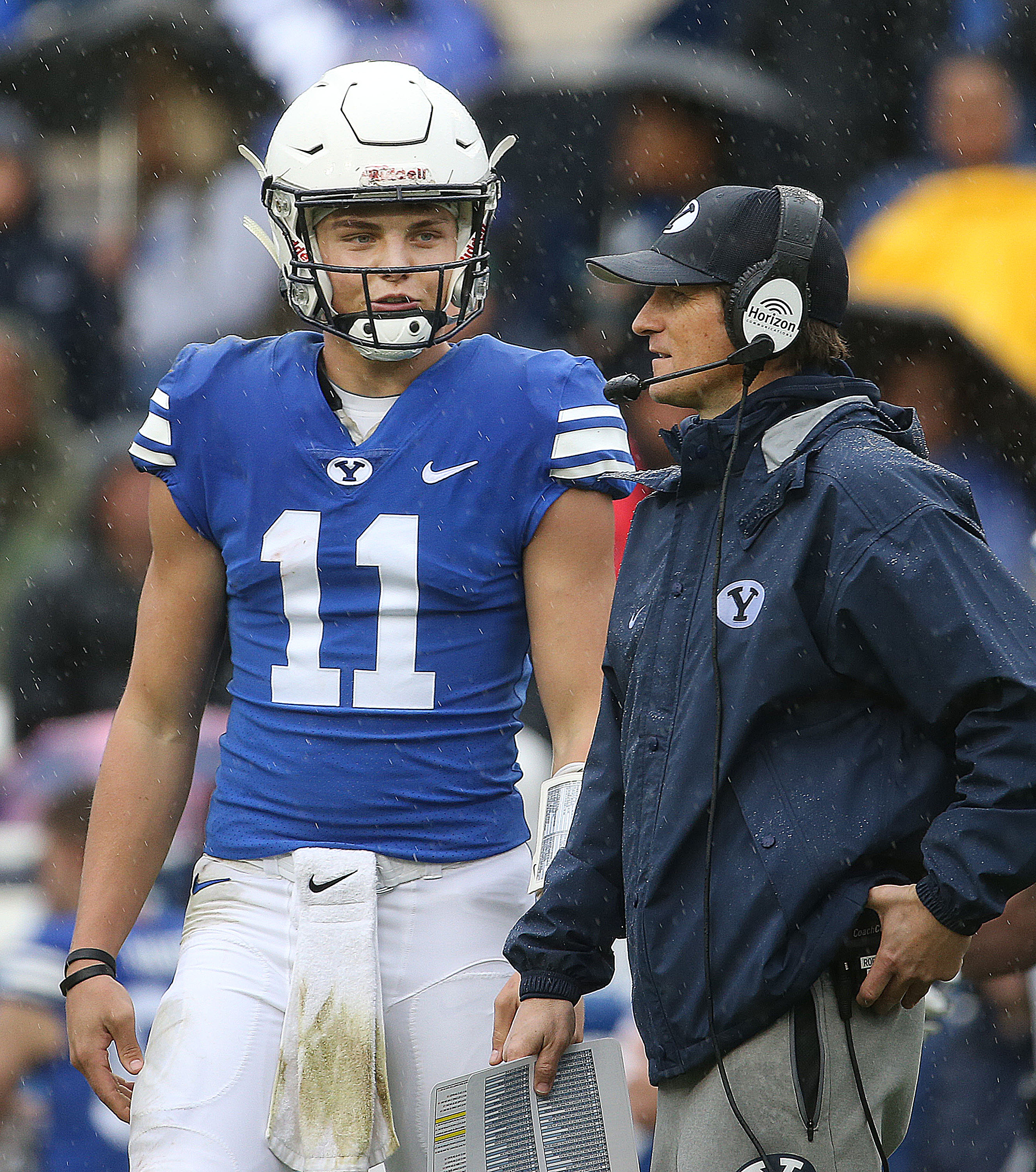 Success Depends Upon Matt Bushman, tight end
A tight end is rarely the most valuable player for a team, but Matt Bushman's impact cannot be overstated. With a new offense and lack of a clear-cut starter, the 6-foot-5, 240-pound Bushman will relieve some pressure on the quarterbacks and lead the offense to success. One of BYU's best NFL prospects, Bushman will be counted on early and often as a safety blanket for a BYU offense that is in desperate need of playmakers.
If Bushman improves on his impressive freshman season and becomes a bigger redzone and downfield threat, BYU's offense will be much more effective and have some bite to it. With a challenging early schedule that includes the likes of Arizona, Cal, Wisconsin and Washington in the first five games of the season, Bushman will need to bail BYU out against "Power Five" conference competition.
As has often been the case during the independence era, BYU will have a frontloaded schedule. The September slate includes Arizona and Heisman candidate Khalil Tate, and road matchups versus preseason Top 10 teams Wisconsin and Washington present challenges. The key opening month game will be Sept. 8 versus Cal in Provo—if BYU wins that game, bowl eligibility is much more likely. Lose that, and it could be another long season.
If BYU can get back to boasting at least an average offense, BYU should be able to count on a good defense to carry them back to bowl eligibility.
Predicted Record: 7-5
Weber State Fills the Void
By John Coons
Building on a historic season is Weber State's next challenge. The Wildcats are now the Big Sky team in everyone's crosshairs in 2018.
Weber State has made incredible strides since Jay Hill took over the program in 2014. It culminated in a 2017 campaign where the Wildcats shared a conference title with Southern Utah and then reached the FCS Playoffs for a second straight season. Weber State ultimately fell to No. 1 James Madison 31-28 in the quarterfinals and finished with a school-record 11 wins and a Top-10 FCS national ranking.
This season, Weber State will be going back to the drawing board in many ways. The Wildcats are replacing a host of key contributors on both sides of the ball. On offense, Weber State is replacing its quarterback and top receivers from a year ago. Braden Miles, Kaden Jenks and Boise State transfer Rathen Ricedorff carried a three-way battle for starting quarterback into fall camp. The Wildcats also must fill a massive void left by several defensive standouts, including all-American cornerback Taron Johnson. Johnson, the school's all-time career pass breakups leader, was drafted by the Buffalo Bills in April.
Newcomer to Watch:
Eddie Heckard, cornerback
There's some big shoes to fill in Weber State's secondary. Taron Johnson, Xequille Harry and Jordan Preator were big-time playmakers for the Wildcats last season. They combined for a dozen interceptions as seniors and gave Weber State a formidable defense.
With so many spots to fill, Eddie Heckard has a chance to step in and contribute right away after a redshirt season. He is a bit undersize but has enough quickness in coverage to get things done at cornerback. Heckard showed potential during the spring camp, and the Weber State coaches were satisfied with his progress.
Heckard showcased some of his playmaking potential at Desert Pines High School in Las Vegas. He set a state record with a fourth quarter 100-yard interception return to help Desert Pines win a state title with a 39-6 win over Spring Creek in 2016.
Success Depends Upon Treshawn Garrett, running back
With so many question marks in the passing game, new offensive coordinator Dave Schramm is going to install a more run-oriented attack in contrast to other Big Sky teams. That will put a bigger share of the offense on Treshawn Garrett's shoulders.
The senior seems up to the task. Garrett spearheaded a running back by committee approach a year ago. He totaled 698 yards and six touchdowns while averaging 5.4 yards per carry as a junior. Garrett averaged 49.9 rushing yards per game while splitting time with Kevin Smith and David Jones in the backfield.
Garrett is entering his fourth season as one of Weber State's primary running backs and he has been a starter in all four seasons. He established himself as a steady performer over his previous three seasons, totaling 1,791 yards and 16 touchdowns on the ground during that stretch.
Winning a second straight Big Sky title may be a bit much to expect for Weber State. The Wildcats suffered losses at too many key positions not to take a step back. The good news for fans around the program is that Weber State will still be one of the league's top teams in 2018.
Hill has built a winning culture in Ogden. And the schedule is favorable for keeping it going. After opening up with an in-state battle against Pac-12 foe Utah, the Wildcats' toughest remaining road game is at Southern Utah in November.
Predicted Record: 7-4
Utah State's Explosive Plays
By John Coons
Could Utah State emerge as a surprise contender for a Mountain West Conference championship? Odds seem favorable for the Aggies to take a leap forward after returning to a bowl last season. Depth and experience are strong on both the offensive and defensive lines. Several returning receivers and running backs such as Gerold Bright and Savon Scarver seem poised to become explosive playmakers based on how they finished out last season. Sophomore quarterback Jordan Love also appears to be the sort of dynamic playmaker that the Aggies need to give their offense a jolt.
Playing in the Mountain Division is never easy in the Mountain West. The Aggies will face an uphill climb overtaking league favorite Boise State. Other teams in the region are in flux, though, opening the door for Utah State to put itself in striking distance to challenge the Broncos.
"Every year is a new year, but I feel good about this team going into the 2018 season," USU coach Matt Wells said. "I know we're healthier. We got more depth, especially among the front seven on both sides of the ball. So, I'm excited to watch our guys compete and have a good year."
Newcomer to Watch:
Tipa Galea'i, linebacker
Utah State is already flush with depth and experience on defense—especially up front. This will only make Tipa Galea'i more dangerous.
The TCU transfer is one of two former Big 12 players joining the Aggies on defense this year. Former Oklahoma State defensive tackle Fua Leilua will be in the mix along the line. But Galea'i has the ability to make a greater impact than any newcomer simply because of his natural pass rushing abilities.
He is big enough to penetrate the line to sack the quarterback and speedy enough to cover receivers as well. Galea'i appeared in 17 games with TCU over two seasons before transferring to Logan after his sophomore campaign. In his final year with the Horned Frogs in 2016, he finished fifth on the team in tackles for loss (5.5) and sacks (3.5).
Success Depends Upon Jordan Love, quarterback
Jordan Love got a chance to show what he could do late last season. He leapfrogged Kent Myers on the depth chart and started the final six games. Utah State went 3-3 in those games and Love showed some flashes of big play potential at quarterback. By season's end, he tallied 1,377 yards, eight touchdowns and six interceptions while completing 54.5 percent of his passes.
Wells said that Love built on last season's game experience in the spring and is poised to take a significant leap forward this fall.
"He's improved his footwork," Wells said. "He's improved his leadership, his pocket demeanor and presence. Still has a long way to go and still will continue to make improvement, but I like where he's at so far."
Having his top two receivers, Ron'quavion Tarver and Dax Raymond, back will only help Love's progression. Tarver totaled 569 yards on 48 catches last season. Raymond tallied 456 yards on 41 receptions.
Close losses and near misses have been a hallmark for Utah State over the past three seasons. This time around, the Aggies have all the right ingredients to cook up a different recipe. The team has the tools to dramatically improve an offense that generated 30.2 points and 397.4 yards per game a year ago. If it happens, the Aggies will end up being even tougher to deal with on defense. Utah State produced 29 turnovers last season— second-most among Mountain West teams.
The schedule is favorable for Utah State to build momentum. Only two opponents— Michigan State and Boise State—feel like definite losses. Expect the Aggies to return to a bowl game and lock in a winning record for the first time since 2014.
Predicted Record: 8-4
Utah Reloads
By Andrew Fronce
Utah had plenty of ups and downs in the 2017 football season, flashing great potential but also making some costly mistakes on their way to a 7-6 record. Despite a few close losses, as well as laying eggs against Arizona State and Oregon, the Utes showed progress by the end of the season. They capped things off with a big win over Colorado in the regular season finale, and a blowout victory against West Virginia in the Heart of Dallas Bowl.
After signing a recruiting class that ranked 38th nationally, the Utes held their annual spring camp where the offense appeared to be more comfortable in its second year of running offensive coordinator Troy Taylor's system, and the defense showed once again that they don't rebuild—they reload.
Utah finished spring camp with no serious injuries to any key players and will receive additional reinforcements in summer when the rest of their signing class arrives. If they can use the spring camp success as a springboard, 2018 could end up being a very exciting season for Utah fans.
Newcomer to Watch:
Mika Tafua, defensive end
While there are many exciting new players joining the Utes this year, perhaps nobody will have a bigger impact in his first year than defensive end Mika Tafua.
Tafua originally committed to BYU before leaving on an LDS mission. He returned in September of 2017 and joined the Utes midway through the season. Although he needed a redshirt year to add weight, Tafua made an impression from the moment he stepped on campus and is an immediate contender to start at defensive end. Due to the graduation of Kylie Fitts, finding depth at defensive end was one of the most important goals to accomplish in spring camp, and Tafua's emergence will help the Utah defensive line tremendously in 2018.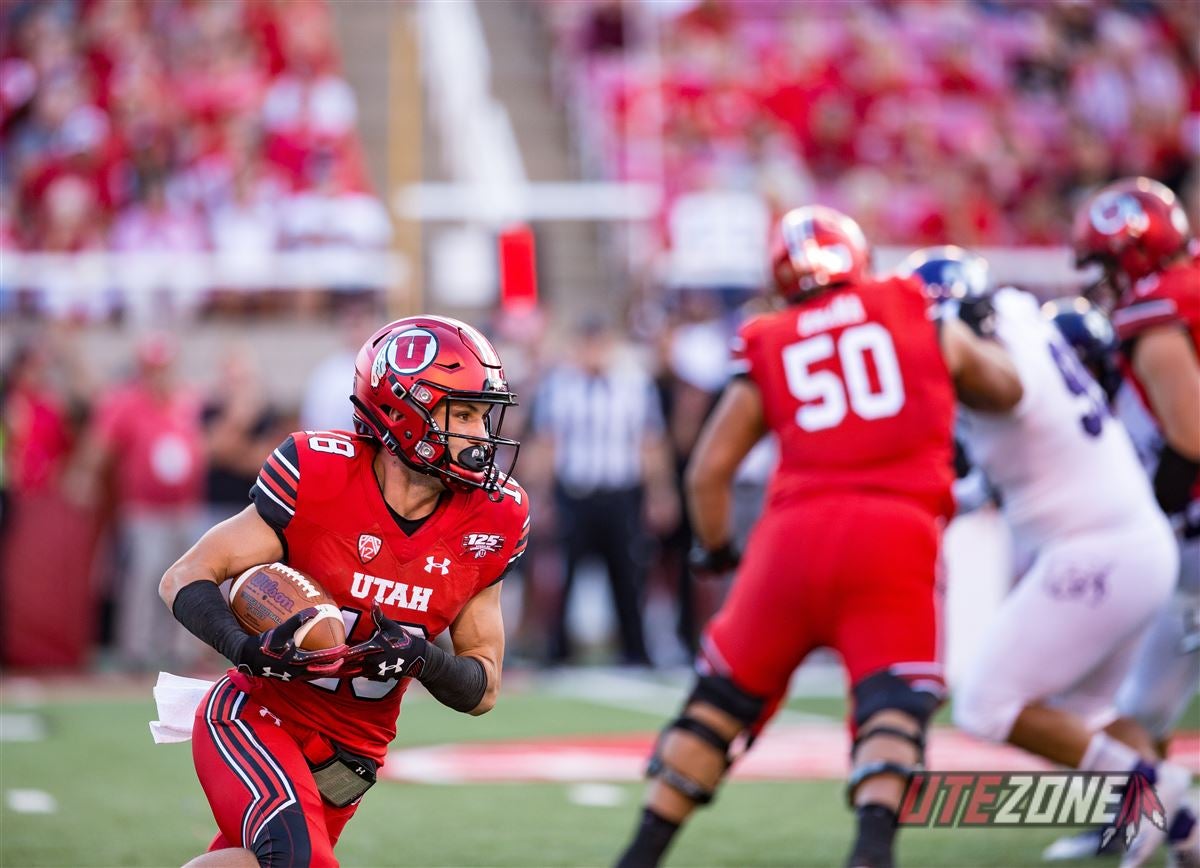 Success Depends Upon Tyler Huntley, quarterback
Although many players will be key cogs on this team, no one will be more important to Utah's success than quarterback Tyler Huntley. Troy Taylor's system relies on a savvy quarterback to be able to make quick reads in both the run and pass game. Last season, Huntley tried to do too much at times, often choosing to keep the ball on run plays instead of handing off to Moss. Despite that, he had solid production, accumulating 2,948 yards of total offense, along with 21 touchdowns in just 10 games.
Huntley put on some good weight in the off-season and will continue to add more in the coming months, and in spring camp, he appeared to be more comfortable with Taylor's system. His decision-making seems to have improved while his live reps were extremely limited. If he has indeed taken a step forward in that category, to go along with his athleticism and arm talent, Huntley could end up being one of the most dangerous players in all of college football this season.
It's difficult to predict exactly how the Pac-12 South will play out in any given year, because of the parity in the division. However, it looks as if Utah has the talent, and more importantly, the depth, to be able to beat any team on their schedule. The Utes will face their first big test of the year early in the schedule, when the Washington Huskies come to town. That game will say a lot about how good this team can be. If Utah can pick up a victory against the pre-season No. 7 ranked team, the Utes faithful should be filled with high expectations for this squad.
Predicted Record: 9-3